Welcome!
If you are looking for a community who loves God and loves their neighbor, then Bellbrook United Methodist Church is for you!
People of all ages find a place here to worship, grow, serve, and learn to live everyday as a discipline of Jesus Christ. You matter...to God and to us!
---
Today's Spotlight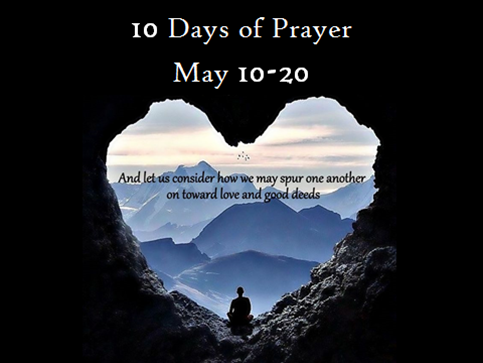 Prayer is foundational to who we are as God's people - and the prayers of each of us shape us as a stronger congregation! You are invited to spend ten days between May 10th and 20th praying for Christ's Spirit to live in and through us as a congregation more vibrantly than ever before.
Who?   Everyone: Old and young, singles and families, members and participants.
When and Where?   Starting tomorrow at 5 a.m. you will receive the prayer of the day in your inbox. Pray whenever and wherever suits your schedule.
What? 
- A congregational prayer that is the same for all ten days.
- A key word that you can hold in your heart
   and mind throughout the day.
- A scripture verse that invites God to direct our ways.
- Focus your spirit in an action step that reflects the day.
This format remains constant throughout the ten days. If you know someone who is not online, please ask them to contact Cassidy at (937) 848-2909 to make arrangements for paper copies.
Why now?    May 10th is the Day of Ascension, when Jesus ascended to heaven to reign as Lord of heaven and earth. According to Acts 1, the disciples were left in Jerusalem and they devoted themselves to prayer that they would be empowered by Christ's Spirit for the ministry ahead of them. They spent ten days in prayer ...and on Pentecost, which we will celebrate on Sunday, June 4th, the Spirit did indeed come and rest upon each one in a mighty way.
May we devote ourselves as a congregation to becoming willing and ready to be filled to overwhelming with Jesus' Spirit and then sent out to renew the face of the whole earth!