Welcome!
If you are looking for a community who loves God and loves their neighbor, then Bellbrook United Methodist Church is for you!
People of all ages find a place here to worship, grow, serve, and learn to live everyday as a discipline of Jesus Christ. You matter...to God and to us!
---
Today's Spotlight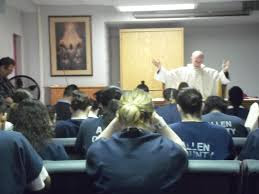 Coin For Christ
During October and November your gifts support the Montgomery County Volunteer Jail Chaplaincy ministry.  Since 1981 this ecumenical ministry cares for the spiritual and emotional needs of inmates in the Montgomery County Jail.  The more than 100 volunteers come from 40 different congregations.  They receive ongoing training in helping inmates face and deal with religious concerns, isolation, grief, loneliness, addiction, and steps to transforming their lives through GED study and domestic violence classes.  This one on one ministry of presence and showing the love of Christ through bible study and worship gives hope to those incarcerated that God and the community have not forgotten them.  
Thank you for your gifts!