Adult Sunday School
Join us in the Community Room at 9 a.m.before worship for Adult Sunday School! We will be beginning an 8 week study of various Christian denominations, using Christianity's Family Tree by Adam Hamilton:
"In this book, Adam Hamilton presents a welcoming, inspiring vision of eight Christian denominations and faith traditions. Comparing the Christian family to our own extended families, he contends that each denomination has a unique, valuable perspective to offer on the Christian faith.
The traditions he examines are Orthodoxy, Catholicism, Lutheranism, Presbyterianism, Anglicanism, Baptists, Pentecostalism, and Methodism. For each group, Hamilton gives a brief history, outlines major beliefs, and describes some things we can learn from that tradition to strengthen our own Christian faith."
---
Education Ministries provides a weekly chapel experience for the Happy Child Pre-school. Free tutoring is available for students in our community on Tuesday evenings.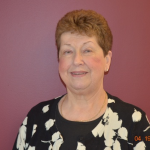 Mary Frantz, Team Leader
937-848-2909
education@bellbrookumc.org