Short Stories by Jesus
Short Stories by Jesus
by Amy-Jill Levine
Join us in the Community Room at 9 a.m. before worship for Adult Sunday School! We are reviewing "Short Stories by Jesus", by Amy-Jill Levine. In this Bible study based on Short Stories by Jesus, Amy Jill Levine analyzes these "problems with parables" taking readers back in time to understand how the original Jewish audience heard the stories. With this revitalized understanding, she interprets these moving stories for the contemporary reader, showing how the parables are not just about Jesus, but are also about us--and they still challenge and provoke us two thousand years later.
The Participant Guide provides an introduction to the main text and can also stand alone with additional commentary and questions for a six week study. With summaries and commentary for each chapter, the guide provides questions and prompts for reflection and discussion.
Contact Tom Frantz for additional information.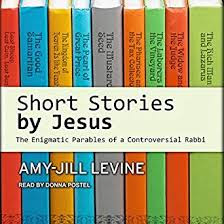 Women's Bible Study
Our Women's Bible Study is starting a new book, "God's Answers to Life's Difficult Questions" by Rick Warren. All women are welcome to join us at Panera Bread in Bellbrook on the 2nd Friday of each month, 9 to 11 a.m. Each chapter of the book stands alone so attendance at all sessions is not required! Please contact Jeri O'Dell at 937-266-6515 or jerimk2@gmail.com if you have any questions. We look forward to seeing you there!