Education Ministries
The mission of the Education Ministries is to provide opportunities and resources so that people of all ages can grow in their faith. We teach young children stories of Jesus and what it means to be a Christian. We help the youth and adults use their heads and hearts to grow in their understanding of God and to live in ways that demonstrate their faith.
---
Opportunities to Participate:
C Children and Youth
Children and youth in Grades 5-12 may attend the entire service. They may also attend Children's Church. Nursery care for infants to 4-year-olds is offered from 10:00 a.m. through the end of the service each Sunday. Other programs for our younger children include Vacation Bible School each summer (ages Preschool-Grade 5).
We value the study of the Bible and give age appropriate Bibles to all of our children.
Sunday morning Senior High class

Sunday morning Middle School class

Sunday school classes for Pre-school through 2nd grade and 3rd through 5th
AE
Adult Education
The mission of life-long Adult Education at Bellbrook United Methodist Church is to experience and nurture a relationship with God by challenging our thinking, opening our minds, increasing our awareness and providing an atmosphere of acceptance where Christian belief can be explored and discussed.
Sunday morning Navigator's class

Monthly Companions in Christ discussion

Odd Wednesday Bible Study

Women's Bible Study

Book Discussion Group

Short-term or one-time studies are offered throughout the yea

---
Education Ministries provides a weekly chapel experience for the Happy Child Pre-school. Free tutoring is available for students in our community on Tuesday evenings.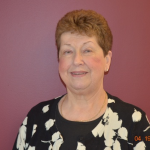 Mary Frantz, Team Leader
937-848-2909
education@bellbrookumc.org